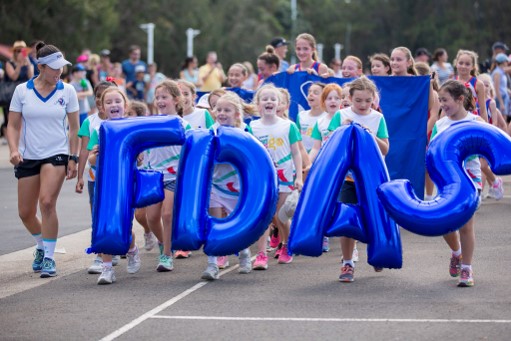 For all FDAS players wanting to continue their training whilst awaiting the season start please check out:
NETFIT Online Clinics
LIVE online program 9am-3pm for kids stuck at home
https://netfitnetball.com.au/netfit-clinic/
2020 Registration CLOSED.
PLEASE CONTACT OUR REGISTRARS WHO WILL ADVISE ON TEAM VACANCIES
Current Vacancies:
Senior C1
15'3
13'3
For other age groups please e-mail our registrars.
New Players welcome. FDAS has teams in all experience levels. Please contact our registrars. FAQ will answer most of your pre registration questions, you can find them under the Information tab above.
REGISTRAR - Junior Team Mini's to 12 years
Darryl Stuart darryl.stuart@hotmail.com
REGISTRAR - Senior Teams 13 years and above
Andrew Russell amrussell@bigpond.com
NEW PLAYERS
NEW PLAYERS MUST EMAIL THE RELEVANT REGISTRAR A COPY OF YOUR CHILD'S BIRTH CERTIFICATE/PASSPORT AND 1 PASSPORT STYLE PHOTOGRAPH.
IF THIS IS NOT DONE AS SOON AS THE CHILD IS REGISTERED THE REGISTRATION WILL NOT BE ACCEPTED.
Registration Links:
10YRS AND ABOVE
https://netball.resultsvault.com/common/pages/reg/welcome.aspx?type=1&id=46672&entityid=42749
MINIS,8'S AND 9'S
https://netball.resultsvault.com/common/pages/reg/welcome.aspx?type=6&id=85246&entityid=42749
Players turning 5-7 years in 2020 are registering for the Mini Magpies Program and need to choose the Net- Activity/Skills option when registering.
Players turning 8-9 years in 2020 need to choose the Set- Skills/Competition option when registering.
The 2020 Winter Netball Season Calendar has been released as follows:
Round 1 - Sat 28 March
Round 2 - Sat 4 April then extended break over Easter until
Round 3 - Sat 2 May
Round 11 - Sat 18 July - is the only round that is within school holiday periods
Grand Final day - Sat 29 August.
Full calendar on the IWSNA website.
Good news on fees is that despite IWSNA raising their fees FDAS will have the same fee structure as 2019. In addition, ALL players will receive a FDAS training t-shirt as part of their membership fees.
Regards
FDAS Netball club
Wet Weather
The IWSNA Website and Facebook feed provides the most timely access to Wet Weather cancellations.
A decision on calling off MORNING games due to inclement weather is made at 7:30am on the day of play by IWSNA.

A decision on calling off AFTERNOON games due to inclement weather is made at 12:00 noon on the day of play by IWSNA.

The Inner Western Suburbs Netball Association (IWSNA) wet weather phone number is 8250 2025 where a recorded message will be left.

The FDAS Club will announce cancellations by posting it on the website and Facebook. It is then up to the Coaches/Managers to nofity each of their team players.