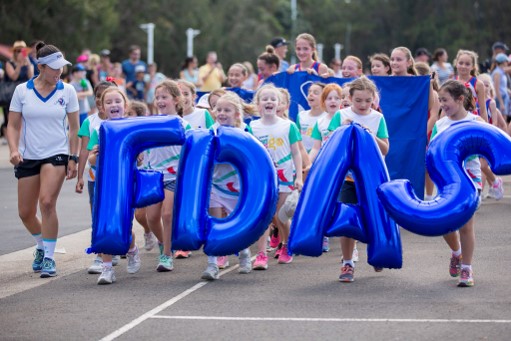 2020 Registration OPENS online 1 Jan 2020.
New Players welcome. FDAS has teams in all experience levels. Please contact our registrars. FAQ will answer most of your pre registration questions, you can find them under the Information tab above.
REGISTRAR - Junior Team Mini's to 12 years
Darryl Stuart darryl.stuart@hotmail.com
REGISTRAR - Senior Teams 13 years and above
Andrew Russell amrussell@bigpond.com
NEW PLAYERS
NEW PLAYERS MUST EMAIL THE RELEVANT REGISTRAR A COPY OF YOUR CHILD'S BIRTH CERTIFICATE/PASSPORT AND 1 PASSPORT STYLE PHOTOGRAPH.
IF THIS IS NOT DONE AS SOON AS THE CHILD IS REGISTERED THE REGISTRATION WILL NOT BE ACCEPTED.
Registration Links:
10YRS AND ABOVE
https://netball.resultsvault.com/common/pages/reg/welcome.aspx?type=1&id=46672&entityid=42749
MINIS,8'S AND 9'S
https://netball.resultsvault.com/common/pages/reg/welcome.aspx?type=6&id=85246&entityid=42749
Players turning 5-7 years in 2020 are registering for the Mini Magpies Program and need to choose the Net- Activity/Skills option when registering.
Players turning 8-9 years in 2020 need to choose the Set- Skills/Competition option when registering.
Dear FDAS Members
Some exciting news to share as Season 2020 approaches.
The FDAS website has received a revamp with a new look and easier to navigate menus and interface.
The 2020 Winter Netball Season Calendar has been released as follows:
Round 1 - Sat 28 March
Round 2 - Sat 4 April then extended break over Easter until
Round 3 - Sat 2 May
Round 11 - Sat 18 July - is the only round that is within school holiday periods
Grand Final day - Sat 29 August.
Good news on fees is that despite IWSNA raising their fees FDAS will have the same fee structure as 2019. In addition, ALL players will receive a FDAS training t-shirt as part of their membership fees.
2020 Registration OPENS online 1 Jan 2020. See our website for links and instructions.
Cintra Park is also receiving some much-needed upgrades to facilities which will be completed in time for the 2020 Season.
The FDAS 2019 AGM has been completed and your new Executive Committee can be found by clicking on the Executive tab under Information. Please don't hesitate to contact us if you have any queries and take note of the vacant Executive positions as we are always looking for new faces to join the best club in the IWSNA.
Executive Positions Vacant:
Development Officer - Identifying and booking netball clinics for our players and coaches. Usually rebooking clinics we have used in the past as well as identifying new and exciting clinics for our members to attend.
Assistant Secretary - Responsible for booking and organising club events and executive meetings as well as assisting our Secretary in other areas of running the club as they arise which usually involves liaising with other Executive members to assist them with issues within the club.
For more information on how you can get involved with FDAS please contact us on the e-mail address below.
Regards
FDAS Netball club
Wet Weather
The IWSNA Website and Facebook feed provides the most timely access to Wet Weather cancellations.
A decision on calling off MORNING games due to inclement weather is made at 7:30am on the day of play by IWSNA.

A decision on calling off AFTERNOON games due to inclement weather is made at 12:00 noon on the day of play by IWSNA.

The Inner Western Suburbs Netball Association (IWSNA) wet weather phone number is 8250 2025 where a recorded message will be left.

The FDAS Club will announce cancellations by posting it on the website and Facebook. It is then up to the Coaches/Managers to nofity each of their team players.